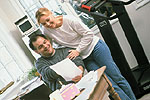 Working together
Disclosures
The contents of the various pages directly accessible at "www.therapyalternatives.org" (collectively referred to in these Terms of Use as "this site") are for informational purposes only and should not be treated as medical, psychotherapeutic or behavioral health care advice. Nothing contained in this site is intended to be used for medical diagnosis or treatment or as a substitute for consultation with a qualified health care professional. No results are promised, although many people report positive results using therapy practices similar to those described in this site.
Your use of this site constitutes an acknowledgement by you that you have read, understood and agreed to abide by these Terms. Do not use this site if you do not understand or agree to abide by these Terms.
We offer various links on our resource page in the hope that they will be of value to you, our guests. However, we have not fully reviewed the links' providers nor their sites, and we cannot guarantee the quality of their information or service. We recommend "due diligence" to anyone seeking information or conducting business on the Internet.
Public chatrooms and the means to create private chatrooms are provided for you and other visitors to use as you each see fit without promise of supervision or control of the text content to be found there. Chatroom content is provided by the independent participants in a chatroom and is their responsibility collectively and individually. Although the third-party software used to create chatrooms allows the site owner to filter out common "swear words" in our chatrooms, the site owner cannot anticipate all language that might be offensive to someone nor control contents in any other way, and the site owner make no guarantees as to the suitability of chatroom contents for anyone other than adults (as defined in the jurisdiction in which this site is being viewed). Remember: you can always leave if you don't like what you see. The site owner reserves the right to temporarily or permanently prevent any registered user from accessing our chatrooms, without notice, if in the opinion of the site owner the registered user is in violation of the letter or the spirit of this site and the information, encouragement and perspective this site attempts to provide.
Although we offer online chatroom services, we do not provide "online psychotherapy". Psychotherapists generally rely on the physical cues of posture, facial expressions, and voice nuances to communicate with their clients. There is currently only limited training available regarding how to provide effective psychotherapy without these cues. No person is authorized to offer nor provide online psychotherapy using our chatrooms or website. Please report any concerns to us at support@therapyalternatives.org.
This site is provided on an "as is" basis for you, the person visiting this site, to use as you see fit. The site owner (Michael Mesmer, MFT d/b/a Therapy Alternatives for Body, MInd & Spirit) makes no representations or warranties of any kind, express or implied, as to the operation of this site or the information, content, materials or products included on this site nor on behalf of any providers of content for this site. To the full extent permissible by applicable law, the site owner disclaims all warranties, express or implied, including but not limited to, implied warranties of service providers, competence merchantability and fitness for a particular purpose. The site owner will not be liable for any damages of any kind arising from the use of this site including but not limited to direct, indirect, incidental punitive and consequential damages.
This site was created by the site owner. The collection, arrangement and assembly of all content on this site is the exclusive property of the site owner and protected by U.S. and international copyright laws.
Much of the content of the site is the original work of the site owner. Other content has been drawn from or points to other content providers besides the site owner (credited in footnotes when the source is known). Third party content, such as text, graphics, logos, button icons and images, is the property of the content providers and protected by U.S. and international copyright laws.
Anyone may freely access this site and take from it anything of value that you find. Please credit this site or the content provider for what you've found here.
This site was created and is controlled by the site owner in the State of California, USA. As such, the laws of the State of California govern these disclaimers, terms and conditions, without giving effect to any principles of conflicts of laws.
The site owner reserves the right to make changes to this site and these terms at any time. Please check back for the latest version.
Our highest priority is to protect your privacy and any data you provide to us. Personal information is not collected by this site nor are "cookies" used to identify you. Information is collected only when you provide it in your email, telephone or personal contact with us. All personal information is maintained as confidential and used only for the purpose for which it was submitted. However, keep in mind that messages sent over the Internet may not be private.
We do not share information with any person, group or organization unless you have agreed for us to do so. At any time, you may obtain a summary of the information about you that we have on record. You may request at any time that we destroy any information about you and remove it from our database, except as prescribed by law. Please contact us for further information.
The computers that deliver this site to you over the Internet (called "servers") identify your computer by its unique IP address. These servers usually record the name of the domain from which anyone is accessing the site and the type of operating system and web browser that are being used. This information cannot be directly used to personally identify anyone.
The chatrooms accessible via this site operate using freely available third-party software.